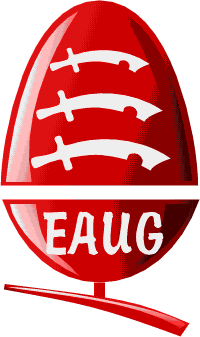 .
.
.
EAUG News
.
.

Issue 02/07
Historical Issue Number 270
February 2007
---
Editorial
Shockwaves are reverbrating around the RISCOS world with rumours that the Wakefield Show may not happen this year. We do take Wakefield for granted as our flagship show; anyone who can make it to only one show all year will almost certainly go to Wakefield. So if Wakefield is off the agenda, what may this imply for the future of the RISCOS market?
I have no reason to suppose that this month's event, the South West Show, isn't going ahead as planned; but there seems no sign that the show's website - http://myweb.tiscali.co.uk/riscshow/ - has been updated since it was set up in September, so who will be exhibiting and what will be demonstrated is still a bit of a mystery. For most of us, Somerset is a long way to go on the offchance that the people and things that we need will be there.
This uncertainty coming close on the heels of the poor attendance at December's Midlands Show bodes ill for the continuing enthusiasm of the small groups of dedicated folk who work hard behind the scenes to organise the shows and make them work for us. Stop to think - where would we be without the shows?
Ultimately, you only get what you're prepared to work for. Ignore something, and it'll go away. To preserve the things in life worth keeping requires a bit of effort from each and every one of us. Are we willing to make it?
Jeanne Scyra, Editor .
.
---
Contributions
Next deadline (for the March 2007 issue of the newsletter):
Sunday 25th February 2007
Please try to get in your reports of the South West Show by midnight on that day.
All contributions to the newsletter are welcome: information, opinions, questions, answers, advertisements. Remember, this is your club, your newsletter, and you have something to say which will be of interest to your fellow members! So how about e-mailing something today to:
editor@eaug.org.uk .
.
The Wakefield Show
Although in recent years Wakefield has been the biggest event on the RISCOS calendar, this year's show is shrouded in doubt. Everyone has been asking "what's the date?" and getting no reply. Just this week, it's become a topic on archive-online, where the request for definitive information - "Does anyone know if the Wakefield show is taking place in May this year?" - has so far prompted two replies from organisers, both less than encouraging.
First, on 31 January, Steve Fryatt wrote "Probably, but even the members of WROCC don't know for certain yet. Unless someone with more authority than me offers a tentative date, I think the only answer is 'wait and see'. I'm sure that once all the Is have been dotted and the Ts crossed, details will be made widely available."
This was followed up the next day by the comment from Chris Hughes "I can't at this time say precisely one way or the other what is happening relating to the show, I have a preferred date for the event. But I can say it will not be in the same venue anymore."
So, no-one yet knows whether or not we will be meeting up in Wakefield this year. We can only hope, and keep an eye on the wrocc website - http://www.wrocc.org.uk/. When we learn of a definite date and venue we will let you know. .
.
The South West Show
The Date:   SATURDAY 24th FEBRUARY 2007
The Place:   The Webbington Hotel, Loxton, nr Axbridge, North Somerset
The Time:   Doors open at 10am until 4:30pm
The Cost:   Adults £3:50 - ARM Club/Foundation members £2:50 - Children under 16 (accompanied by adult) FREE
The Website:   http://myweb.tiscali.co.uk/riscshow/
Be There!
.
.
---
EAUG Meetings
These are now held at 7:30 for 7:45pm on the Second Tuesday of each month (except August). For many years, we used to meet at the Witham Library. We now have a new home for our meetings in the Great Baddow Village Hall.
For the most up-to-date detailed directions, see the website page
http://www.eaug.org.uk/ven.htm.
.
---
Last Month's Meeting
January's meeting was a "gadgets" meeting. The meeting was well attended and the gadgets were of great variety if not particularly relavent to computers!
Tony kicked things off demonstrating an automatic blood pressure monitor. Several people took him up on his offer to have their BP measured, it was interesting and no ambulances were called for as a result.
Roy demonstraded a battery charger for charging NON rechargeable batteries (ie ordinary "throwaway" primary batteries). This has often been tried before but generally dismissed as either "doesn't work" or "too dangerous" (batteries may explode!). His unit had electronic charge control which claimed to overcome the problems, Roy charged some AA batteries during his talk and it seemed to work. The unit cost about £40.
Cedric demonstrated a CD/DVD cleaning/polishing kit which claimed to "polish out" minor scratches in CDs thus rendering them playable again.
Dan brought several items, a special penknife, a listing programme "ListPro" which listed his extensive collection (3224) of Penguin books, which he gave details about and lastly a digital voice recorder, on the face of it just a pocket "memocorder" but with an incredibile 144 hours of record time!
Martin bought in an unusual board game which involved pieces with mirrors on them and a laser light generator in the centre.
Frank had two gadgets, a 1957 Henley "Solon" 25watt soldering iron, a present from his then-prospective mother-in-law, and it is still going! (the soldering iron, not the mother-in-law I think!). He also bought a CD storage case with finder. The CDs are stored in a toast rack arrangement, you slide a selector to the correct index number then open the case and the selected CD is extracted!
Lastly Cedric again demonstrated some Linux based forensic software, Knoppix and Ubuntu, which allows you to examine and copy items from a computer's hard drive without changing anything, and to recover items which have been deleted from the hard drive. This software is used by the Police in cases involving computers where the exact contents are part of the prosecution evidence.
An unusual evening but one that was enjoyed by all.
Don Scott .
.
---
This Month's Meeting
Next Tuesday, the 13th February, we'll be taking a look at "Short Cuts" and comparing RISCOS ones with those available to Windows users. Unfortunately there are no prizes on offer; but one is free to speculate which platform will prove to have the more useful facilities! .
.
---
Future Meetings
If you have any suggestions or ideas as to what you'd like to have discussed at a future meeting, or - even better - you can give us all a talk yourself, please don't hesitate to let the Committee know! .
.
.
.
---
News from the Iceni Club
After the disruptions of the festive season, the Iceni Club meetings have returned to their normal schedule - the First Wednesday of each month. Doors open at 7 pm and meetings start at 7:30 pm at the Bourne Vale Social Club. If you have not been before, please note that it is considered essential to visit the following page and make a printed copy to take with you. The information on the specially drawn map is not available from the likes of Multimap! You have been warned!
http://icenicomputerclub.users.btopenworld.com/venue.htm
The next meeting of the Ipswich-based club will be this Wednesday, the 7th February 2007 when the subject will be:
"VISTA - the latest Windows version from Microsoft"
The talk will be given by Iceni Club member Michael, whose business is Windows support. About the meeting, he says:
Here the main things which I hope to cover at the next meeting about Windows Vista:

Microsoft's Reasons to Upgrade
Will Current Hardware run Vista?
Is there any gain for the average user?
Demo of the New Operating System
The differences between the many different versions - which one is right for you?
Software compatibility. Is your current software compatible?
Possible attempt to Install of a form of Virtual Acorn if supplied by another member in the second half of the meeting (Due to licensing reasons this will of course be fully uninstalled at the end of the meeting).
I think Michael is being over-optimistic about trying Virtual Acorn on Vista. All CD versions of Virtual Acorn have to have an un-lock code which is configured on the basis of the MAC address of the mchine on which it is being installed. If someone is prepared to provide a not previously installed copy, it would be possible but the owner of the disc would find it extremely difficult to get a second un-lock code from VirtualAcorn when they tried to install it on their own machine. It would be easier to seek VirtualAcorn's assurance regarding its use with Vista.
Nevertheless, it should be an interesting evening for those who choose to, and those who are forced to, use Windows.
Frank Watkinson, 2nd February 2007
You can always see what is on the Iceni Club programme by going to:
http://icenicomputerclub.users.btopenworld.com
or contact the group by telephone at
01473 728 881
or by e-mail at
iceni@woolridge.org.uk .
.
---
For Sale & Wanted
---
WANTED - Acorn A4 laptop, any condition, or working motherboard for same. Contact the Editor at editor@eaug.org.uk.
---
FOR SALE - Syquest Ezflyer 230MB removable cartridge hard drive, parallel port connection, works on OS up to 3.71 (Not 4.02 and beyond). Two cartridges. Modest offer acceptable. Contact Frank Watkinson on 01206 823199 or e-mail at frank@eaug.org.uk
---
FOR SALE - MyHopper KVM Switch. Two-way switching of Keyboard, Video and Mouse. Switch by one key press from one computer to another while continuing to use just the one keyboard, one mouse and the same monitor. Currently operating faultlessly with a RISC PC and an Iyonix. Switch unit and cables. Cost new: £89. Will accept £50. Contact Frank Watkinson on 01206 823199 or e-mail at frank@eaug.org.uk
---
WANTED - Analogue Monitor. To operate with RISC OS 2 on old Acorn computer. If you can help, contact Tony Lister (if you don't know his contact details, try the Editor).
---
Please remember that this "For Sale & Wanted" column is not just for the editor's entertainment. You never know when someone might be looking for what you have. In the "Wanted" case, maybe someone needs a reminder that they have one 'in the loft' that they really want to get rid of? .
.
---
Committee Contacts
| Name | Position | Phone No. |
| --- | --- | --- |
| Gerald Dodson | Chairman | (01245) 381288 |
| T.B.A. | Secretary/PR | T.B.A. |
| Roy Cannon | Treasurer | (01245) 284025 |
| Frank Watkinson | Non-Exec | (01206) 823199 |
| Dan Glading | Non-Exec | (01245) 471463 |
E-mail the Editor: editor@eaug.org.uk
Club Website: http://www.eaug.org.uk/
---
.
.
.